Introduction: In the vast digital universe of social media, one man found himself caught in a peculiar web of targeted advertising. Little did he know that his innocent scrolling through Facebook would lead to an unexpected encounter with the world of female hygiene products. Join me as we embark on the journey of a man and his digital escapade, affectionately dubbed "The Facebook Diaper Crusade."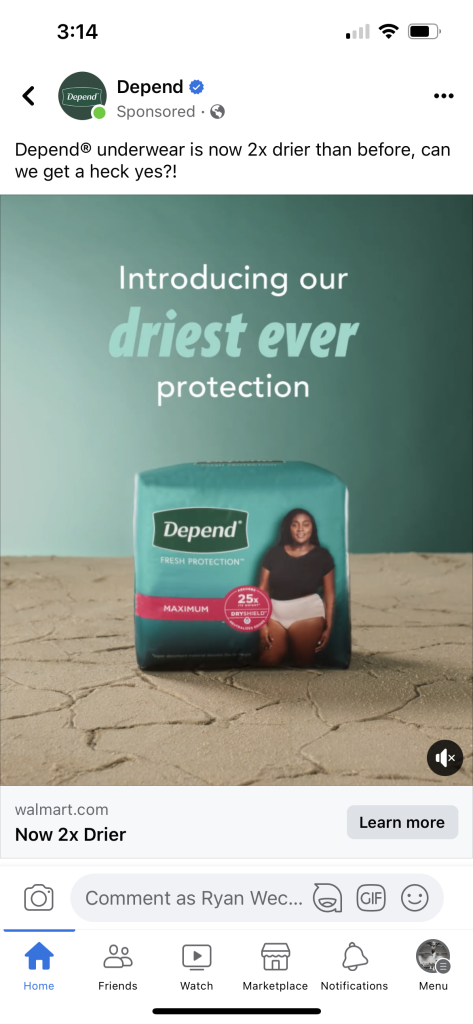 Chapter 1: A World of Innocent Scrolling Our protagonist, let's call him Rian, was an average guy with a penchant for Star Wars videos and Baby Yoda memes. He innocently scrolled through his Facebook feed, blissfully unaware of the digital storm that was about to unravel. Suddenly, an advertisement caught his eye. It was a sleek, feminine package of adult diapers. Perplexed, Rian wondered why he was being targeted with such an unusual product. Was Facebook trying to tell him something?
Chapter 2: Confusion Sets In, Rian baffled and slightly concerned, tried to make sense of the situation. Had he accidentally clicked on something diaper-related? Did Facebook's algorithm misinterpret his interests? Or was it a glitch in the matrix, toying with his sanity?
Chapter 3: The Facebook Diaper Fan Club Word spread like wildfire across Rian's social circle. Suddenly, everyone seemed to be in on the joke. Friends tagged him in diaper-related posts, bombarding his notifications with giggles and emojis. The digital world had truly embraced his unexpected adventure.
Chapter 4: Rian's Diaper Discovery Amidst the chaos, Rian took a step back and decided to investigate. And simply could not find an answer as to why he was targeted. Other than potential targeting errors made by the advertiser.
Conclusion: The Digital Diaper Legend Lives On In the end, Rian's adventure with the Facebook diaper saga highlighted the unpredictability of social media algorithms and the power of laughter. So, the next time you find yourself in the midst of a digital mishap, embrace it, laugh it off, and remember that life is too short not to enjoy the absurdity of it all.
Disclaimer: No diapers were harmed in the making of this blog, and Rian is still happily diaper-free to this day.
Also, Walmart and Depend, if you need help with your digital advertising, I know a guy 😃